Matt Groen is the executive director of the Michigan Cable Telecommunications Association. A graduate of
Michigan State University, where he received his bachelor's degree in Political Theory and Constitutional Dem
ocracy from James Madison College, he has over a decade's worth of experience as a respected and effective leader for the cable industry. After joining the MCTA in 2009, Matt was named Executive Director in December, 2012. He has worked on key legislation affecting the cable industry in our state, including access rate restructuring and multiple rewrites of the Michigan Telecommunications Act.
Prior to joining the MCTA, Matt served for six years as manager of legislative affairs at the Michigan Restaurant Association. Between his current capacity at the MCTA and his work at the MRA, Matt has testified dozens of times before state House and Senate committees. Prior to his lobbying experience, he worked as a legislative aide for two different state Senators.
Matt is proud to be leading MCTA at a time of such rapid expansion and innovation. He enjoys sharing cable's great story, which began with video television and has evolved to where it is today, offering broadband Internet, phone service, and on-demand programming across multiple platforms including smart phones and tablets.
Sherry Nelton is the office administrator at MTCA, a position she has held since 2007. She was previously the
Membership/Project Coordinator of Michigan Association of Secondary School Principals and Project Coordinator at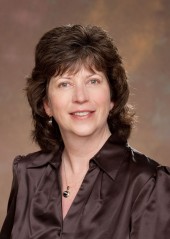 Michigan Association of School Boards, PR/Communications department.
Sherry has eighteen years of experience in project management in non-profit organizations. She has led the implementation of data management and membership recruitment systems, designed marketing material and coordinated membership communications.
Sherry recently acquired the Certified Meeting Professional designation and lives near Eaton Rapids.